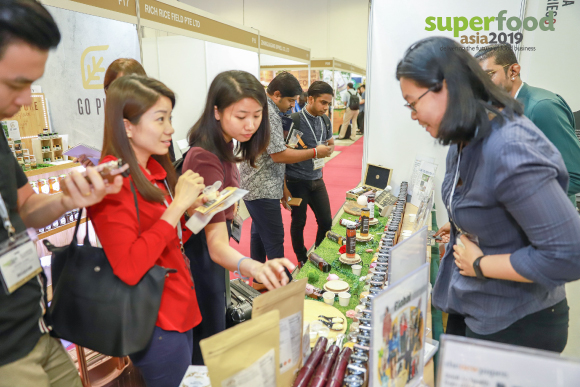 SUPERFOOD ASIA 2019 GATHERED FOOD & BEVERAGE TRADE VISITORS FROM 46 DIFFERENT COUNTRIES IN SINGAPORE
Singapore, 24 April 2019 – In May 2018, Constellar, the subsidiary of Singapore Press Holdings announced the launch of Superfood Asia, a new business-to-business exhibition dedicated to healthy, better-for-you food products. As scheduled the 1st edition of Superfood Asia commenced this 24 – 26 April, and was held at Sands Expo and Convention Centre in Singapore. Singapore has been chosen to host the inaugural edition due to her extensive global trade and communications networks that provide market access and trade flows to the Asia Pacific and the world.
Themed "Delivering the Future of Food Business", with a dedicated focus on the healthy and the natural sector as well as the halal sector. With a forecasted growth of US$69.2 billion over the next five years, the healthy and natural food market is expected to be worth US$345.2 billion by 2020 [1]. Created in response to these industry demands, Healthy & Natural Food Asia, alongside Superfood Asia will provide the ideal platform to reveal good growth potential as new superfoods and beverages continue to hit retail shelves.
Superfood Asia 2019 participated exhibitors are mainly from Singapore, Malaysia, South Korea, India, China, Sri Lanka, Mexico, Peru, Australia, Taiwan, Vietnam and many more. As part of the deliverables offered to the exhibitors they will receive the invaluable opportunity of face-to-face interaction to proactively showcase their innovations and build solid business relationships with Asia's most important trade buyers who are sourcing for the best healthy, natural and halal products. Align with Through-The-Line (TTL) marketing and promotional campaign which have been geared up towards increasing brand visibility for exhibitors and trade buyers extensive digital marketing activities being done throughout Superfood Asia social media platform.
For more updates and insights of the event kindly follow us on Facebook, Instagram or SuperfoodAsia website! 
Pre-show online business matching programme, Trade@SFA hosted by Superfood Asia is set to be an excellent platform in helping exhibitors and trade visitors get ahead of the curve in the healthy and natural as well as halal segments.
Next upcoming edition the 2nd Superfood Asia 2021 will be held on 28 – 30th April at Marina Sands Expo & Convention Centre.