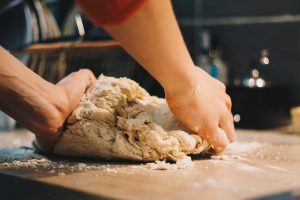 In the old days, at the time of long journeys and warfare, people used to bake biscuits twice because they needed food that could be easily stored for longer periods of time. The word biscotti, in this sense, shares its origin with the British English word "biscuit".
In North America, biscotti refers to a specific type of Italian cookie or biscuit, which is derived from the Tuscan biscuit called, "cantucci". Which is a hard almond flavored cookie that is baked twice, and in Italy still frequently served with the sweet Italian dessert wine, Vin Santo?
The word "biscotti" is the plural form of biscotto. In Italian, the word "biscotto" means "biscuit" or what we Americans have come to call a "cookie." Although commonly used to indicate the biscuits of Prato, "biscotti di Prato", in modern Italy, what we call Biscotti is also seems to be known by the name "cantuccini."
The word "biscotti" also has its origins from the Medieval Latin word biscoctus, meaning "twice-cooked or baked." So in Italy, biscotti also means twice baked, and therefore any cookie or biscuit that is twice baked can be referred to biscotti
The original recipe was rediscovered in the mid-nineteenth century in Prato by the Italian chef Antonio Mattei and consisted of flour, sugar, eggs, pine nuts, and unroasted, unpeeled almonds. Today there are many variations of biscotti, some of them quite sweet and chock full of flavours such as chocolate, all matter of dried fruit and nuts, and spices such as cinnamon and anise seed.
In Italy, biscotti are traditionally served after dinner with a sweet, fortified wine such as vin santo. But elsewhere they have become a coffeehouse staple where their popularity rose with the latte and cappuccino. Either way, the dry cookie (biscotto, singular) is often dunked into its accompanying beverage.
There are many yummy, yet unhealthy snacks in the market. Baked To Order has reinvented a biscotti recipe that is healthier and tastier for the health-conscious consumers who love a good snack. The birth of Baked To Order – one of the niches and innovative biscotti producers in Singapore – is inspired by the search for healthy snacks and deep interest in flavour innovation.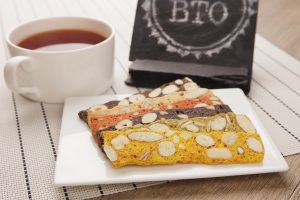 With more discerning consumers looking for healthier alternatives, Baked To Order uses quality superfood ingredients which are from the best sources for its nutritional value. Superfood ingredients are packed with vitamins and nutrients that are highly beneficial to health. There are at least three main superfood ingredients in their biscotti recipe and in each available flavour.
The story of Baked to Order all started in the home kitchen by using a variety of premium superfood ingredients to concoct biscotti with more nutritional benefits for just family and friends in the beginning. Subsequently, they moved on to bake for orders upon request to raise funds for charity and the less fortunate which they were happy to oblige. With a successful recipe and overwhelmingly positive feedback, they then decided to start the bakery online.
There is a selection of authentic flavours you can enjoy by Baked To Order:
Original with Pecans
Dark Cocoa & Hazel Nuts
Blueberry & Walnuts
Coconut & Pistachios
Beetroot & Cashews
Matcha & Melon Seeds
Black Sesame & Pine Nuts
Turmeric & Cashews and many more…
Basic ingredients in the products consist of Pasteurised Egg Whites, Brown Sugar, Wholemeal Wheat Flour, Vanilla, and Almonds. To find out more, visit: http://bakedtoorder.sg
Visit them at Booth, E20 at Superfood Asia 2019 from 24th – 26th April at Marina Bay Sands Expo & Convention Centre, Singapore.
Pre- Register Now
SUPERFOOD ASIA 2019