The debate between Traditional and Modern Medicine has always in the rise, matter of fact there is no solution or any conclusion made so far. Traditional medicine refers to the knowledge, skills, and practices based on the theories, beliefs, and experiences indigenous to different cultures, used in the maintenance of health and in the prevention, diagnosis, improvement or treatment of physical and mental illness.
Traditional medicine is often termed alternative or complementary medicine in many countries. Herbal treatments are the most popular form of traditional medicine and 70% to 80% of the Region has used a form as primary health care.
Living in this 21st Century, most of us have been exposed to Modern Medicine, from the early childhood vaccination to chemotherapy and surgical procedures. Let's highlight one of the hot argument in Asia, usage of Vaccination in Modern Medicine which have been seen as a threat.
So with all this playing in our mind, do you think we should avoid all synthetically made medicine? What about those organic products and Asian Herbs are given by Traditional Medicine? Are they worth consuming?

Asmara & Nuvojoy took up the challenge to combine science with our local Asian herbalism. As certified food scientists who have done research in the area of herbs, polysaccharides, nutrition, and product development, it was easier for them to combine tradition with science to create novel food products for Singaporeans.
Emerging of Certified Scientist & Asian Herbs-
Asmara & Nuvojoy are local brands that bring novel superfoods options to Singaporeans. Asmara concentrates more on functional superfood beverages, while Nuvojoy concentrates more on low GI Asian food products. A novelty was required to offer more options to consumers than the usual range of products. Asmara requires products that are formulated based on Asian's taste preference, health concerns, and choice of ingredients. Most imported products are usually formulated based on the preferences and health trends of their own respective region/country.
The population of diabetes in the world is expected to increase from less than 400 million in 2013 to 600 million in 2035. Diabetes is to watch their diet and limit their intake of foods that will increase their blood glucose level which is also known as high Glycemic Index (GI) food. A lot of Asian food, such as rice, kueh, and cakes are high in GI and are likely to be on the list of food they are told to avoid. Nuvojoy products bring these foods back to consumers in the low GI version where they can enjoy and yet not to worry about their blood glucose level.
Why Asmara & Nuvojoy?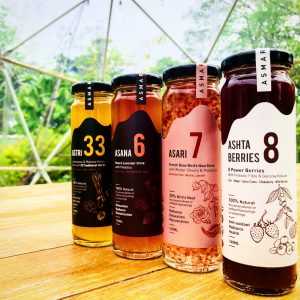 Asmara® Astri 33 is refreshing and soothing beverage made from lemongrass, Manuka honey, fresh lime extract, pandan extract, and 33 different Asian and Western herbs such as turmeric, ginger, gooseberry, liquorice, Indian ginseng, asparagus root, and etc. These herbs are naturally known to contain beneficial phytochemicals that have antioxidant, anti-inflammatory, antibacterial, and antiviral properties. Therefore, they naturally influence our immunity, skin health, digestion, and general well-being.
Asmara® Ashta Berries 8 is an antioxidant-rich beverage made from organic acai berry, maqui berry, camu-camu, chokeberry, raspberry, blueberry, strawberry, and blackberry. It also contains prebiotic fibre and garcinia indica (mangosteen family) extract. These Amazonian and European berries are well-documented to have potent antioxidant, anti-inflammatory, cardioprotective, and immunoprotective properties. Prebiotics are scientifically proven to promote a healthy digestive system by supporting the growth of good bacteria in your gut.
Asmara® Asari 7 contains a blend of seven functional ingredients: bird's nest concentrate, New Zealand black Doris plum, organic garcinia indica (mangosteen family), winter cherry, French rose, lavender and prebiotic fibre. These ingredients and herbs have been reported to potentially improve skin health, radiance, and mood. Bird's Nest, a key ingredient in the beverage is well-known in Traditional Chinese Medicine for its tonifying properties that improve your immunity and skin complexion.
Asmara® Asana 6 is made from a blend of 6 unique functional ingredients: New Zealand black Doris plum, French rose, organic garcinia indica (mangosteen family) extract, winter cherry (Indian ginseng), lavender and prebiotic fibre. These herbs and flowers are known to improve your mood, cognition, skin and digestive health.
Nuvojoy products are low in the Glycemic Index (GI). Backed by over 40 years of scientific evidence, low GI foods are known to bring many benefits to us.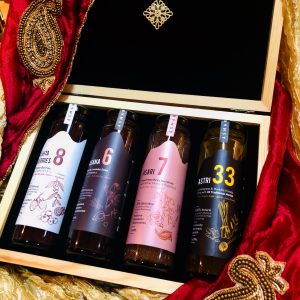 Low GI foods reduced the risks of:
Type 2 diabetes and gestational diabetes
Cardiovascular disease
Obesity
Certain cancers" breast and bowel
And improved health and well-being through:
Better diabetes management
Better weight management
Help weight loss
Increase exercise endurance
Improve satiety
Improve cholesterol levels
Asmara and Nuvojoy ingredients go through strict specifications and sources from reliable brands such as Bob's Red Mill, Prima, etc. The premixes are the dry blending of these premium ingredients. These precautions are taken to ensure the product does not contain any GMO and its minimally processed food
Asmara & Nuvojoy specialise in the research and development of food-and-beverage products. Visit NU3X Booth, E18 at Superfood Asia 2019 from 24th – 26th April at Marina Bay Sand & Expo, Singapore.
Discover more about the world of superfood, health benefits and opportunities within the industry at Superfood Asia 2019.  See you soon