Today Superfood Asia 2019 would like to take this opportunity to celebrate woman and their achievement and contribution to Food Business. Food and Woman have been in close relation since the growth of community both in population and culture. Here are the top woman chef from all around the world who have made changes in our lives for a better life especially in Woman Empowerment. Happy International Woman Days to all Mom and Sister all around the world.
Our first winner for Top Chef will always be:
MOTHER
Global
Our moms are the best chefs! We have all seen our mom's putting in their best every day at the kitchen. We appreciated her cooking some day and just ate in silence the other. At times we probably didn't even notice how there was always cooked food in front of us!
Food memories and mom memories often go hand in hand. For culinary professionals, in particular, many developed their passion for cooking while watching their mothers or the maternal figures in their lives as they prepared family meals.
Moms Touch is the BEST
Anne-Sophie
France
Anne-Sophie Pic is third-generation chef-owner of her eponymous restaurant in boutique hotel Maison Pic, in Valence, south-east France. The heritage-steeped restaurant first earned three Michelin stars back in 1934 and continues to be an exemplary fine-dining establishment since Anne-Sophie took over.
Though she continues the attention to detail and quest for perfection practised by her father and grandfather, her stints in America and Japan have given her approach to food a more delicate and feminine touch.
Take a dish of la carotte et la fleur d'orange. Under Pic's deft hands, the humble root vegetable is turned into a textural dish of carrot ribbons and jelly, topped with a fragrant orange blossom yoghurt.
Garima Arora
Thailand
The talented cook creating strikingly modern cuisine with Indian techniques and Thai ingredients
Three years ago, Garima Arora was bound for her native India, where she had been handpicked by chef Gaggan Anand to run a new restaurant. When the project fell through, the same team of investors offered Arora space right opposite Gaggan in Bangkok, where she had been working for several months. It was a decision that changed Arora's career, leading to the opening of Gaa and triggering a chain of successes that now see her considered as one of the best cooks in the region at just 32 years old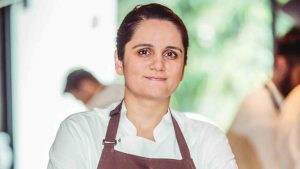 Now Arora wants to change the world's perceptions of Indian food, opening minds to a cuisine that she says can have as much influence in Asia as French cuisine has had in Europe. With her status as one of the most talented chefs in the region, she is in a strong position to give India's lesser-known food heritage the international acclaim it so deserves.
Clare Smyth,
Britain
Clare Smyth has been named "Best Female Chef", a prestigious accolade distributed by the international awards body, World's 50 Best Restaurants. The London-based chef is the first and only woman in Britain to run a restaurant with three Michelin stars in the UK. She opened her Notting Hill restaurant, Core by Clare Smyth, last summer and it has since been lauded by industry experts for its artisanal flair and sustainable ethos.

The 39-year-old culinary star grew up on a farm in Northern Ireland before moving to England in her teens and training under some of the world's most renowned chefs, including a stint working under Gordon Ramsay at his eponymous restaurant in Chelsea.
Topping the poll of more than 1,000 culinary experts, Smyth hopes that winning the Elit Vodka World's Best Female Chef Award will help champion the extent of homegrown culinary talent, telling the Evening Standard that celebrating British produce is at the heart of her approach to cooking.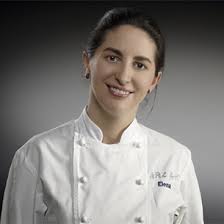 Elena Arzak
Spain
As the fourth-generation successor of over three Michelin-starred restaurants Arzak, Elena Arzak runs a tight ship together with her 74-year-old father Juan Mari. Having trained at top restaurants such as at La Maison Troisgros, Le Louis XV under Alain Ducasse, Restaurant Pierre Gagnaire and elBulli, Elena now continues her father's style of modern Basque cuisine (a refined take on traditional Northen Spanish fare such as meats and fish grilled over coals and hearty lamb stews) over at Arzak.
Her playroom is a laboratory above the restaurant, where she and the kitchen team works on innovative ideas to intensify the flavours in a dish. Imagine, for instance, freeze-drying mussels and creating a powder for a deep umami hit. Under her leadership, nearly three-quarters of the chefs in the San Sebastián restaurant are also female.
Kwen Liew
Malaysia
Kwen Liew is the first Malaysian woman to join the ranks of Michelin chefs.
Liew, who was born in Ipoh, is the co-owner of one of the 57 restaurants that were awarded their first star in the 2018 Michelin Guide France. She is also one out of only two women chefs who earned the star for her restaurant in the prestigious restaurant and hotel guide book, which features 621 French Michelin-starred restaurants, this year.
Pertinence in Paris was awarded one Michelin star in February – less than a year after it opened for business last March. The restaurant, run and owned by Liew and her Japanese husband, Ryunosuke Naito, serves classical French cuisine cooked with unconventional Japanese techniques. Michelin describes the couple's food as "carefully and expertly transforming market-fresh ingredients into succulent French dishes, brushing away the cobwebs of tradition along the way".
Becoming a Michelin-starred chef is a surprisingly rare feat.  Agence France-Presse reported that women barely make up 5 per cent of all the Michelin-starred chefs worldwide.  It is not easy for a woman to make it in the culinary industry, which is dominated by men. Liew told the news agency that women always had to prove that they were twice as good as men to get their team of chef's to listen to them. She said she solved the problem by acting like a man when working in the kitchen.
'We don't give a damn what she says'," she said.
Michelin has previously been criticised for snubbing distinguished restaurants run by women, as well as for the lack of diversity among the guides.
Michelin said the small percentage of Michelin women chefs was because of the small number of females working in the profession.
Petrina Loh
Singapore
Leaving behind her private banking job of 8 years, Chef Petrina took the road less travelled and decided to pursue her passion for food and wine. After undergoing the prestigious Le Cordon Bleu programme at the California Culinary Academy and working at Michelin-starred restaurants such as Spruce and Atelier Crenn, she opened Morsels in 2013 on Little India's Mayo Street. Now shifted to Dempsey Hill, Morsels successfully bagged the 2017 World Gourmet Summit's Awards of Excellence – Restaurant of the Year, as well as Chef's Choice (Western) for Chef Petrina.
Pooja Dhingra
India
Dhingra was born into a family interested in gastronomy. Both her father and her brother Vaarun Dhingra are restaurant owners. When still young, Dhingra learnt the art of baking from her mother. She initially enrolled at a law school in Mumbai before quitting in 2004, switching careers to attend a hospitality and management course at the César Ritz school in Le Bouveret, Switzerland. Three years later, she began training at Le Cordon Bleu in Paris. There she came across her first macaron at one of Pierre Hermé's patisseries.
After completing her course, Dhingra returned to Mumbai and opened her first store in March 2010 with the single goal of creating Parisian styled culinary experiences in India.[5] In 2016, Dhingra expanded her enterprise, opening a new location called Le15 Café in South Mumbai. While signature desserts named after French women will be featured, the cafe's menu includes simple, savoury food main course dishes.
When she opened her Mumbai business in 2010, she had a staff of only two. By October 2014, she had as many as 42. Her ambition is to open establishments throughout India.
She has been featured in national dailies and is a regular in fashion and lifestyle glossies not just for her abilities in the kitchen, but also as a dynamic businesswoman and inspiration to women – she was selected by Forbes India for their '30 Under 30' achievers' list for 2014 and the Forbes 30 under 30 Asia list
REGISTER NOW
To Receive Express Pass and Free Show Directory