Chia seeds have indeed been popular for a long time. Having made its name as one of the earlier superfoods, despite its tiny size, it is often touted as one of the easiest pick-me-ups in the world of fitness and health.
What are exactly chia seeds? Tiny in size, often as small as a single quinoa grain, they come in multiple colours of black, white, brown or beige. Chia seeds in fact, originate from a Mexican plant called the Salvia Hispanica and have an unbelievably long shelf life.
The word "chia" means oily in Spanish. This is relevant as it is a treasure trove of superior quality protein, omega 3 and 6 fatty acids, dietary fibre, vitamins and minerals and polyphenolic antioxidants which protect the seeds from microbial or chemical breakdowns.
These seeds were already part of the Mayan and Aztec diets in South American from as early as 3500 B.C. and while many superfoods have passed the popular phases, chia seeds continue to be lauded by the young and old alike many years on.
Sometimes it is even referred to as ancient grain and is classified as a pseudo-cereal, which is a non-grass plant where its seeds can be ground into flour and otherwise used as a cereal.


Evergreen superfood
Why chia seeds continue to be popular superfood choices is the easy nutrient absorption properties. To get the most of its nutritional benefits, soaking chia seeds in liquid creates a gelatinous result which goes well with smoothies,
oatmeal or when added into puddings, almond milk or even used as a substitute for eggs in vegan recipes. The wholesome tiny goodness has a tinge of neutral yet nutty flavour. You can even grind the seeds and add into a bread recipe!
Mega nutrients in a single ounce
Fibre-richA serving of chia seeds ranges from 28 to 56 gm. The latter is equivalent to the total daily recommended fibre allowance for women which makes it easy to manage. We need high fibre in our diets to prevent heart disease, cancer, diabetes while strengthening the gastrointestinal health and digestive system function. The fibre digests more slowly compared to other food and keeps you
The calcium content in chia seeds promotes bone health and body strength.
Omega 3 and 6 fatty acids
Research has indicated that chia seeds' omega 3 fatty acids have been shown to reduce inflammation, protect against liver disease, diabetes and arthritis, and lower blood pressure.
Alpha-linolenic acids (ALA)
The ALA in chia seeds has been proven to have a positive effect on cardiovascular health. In New York, it was found that women who consumed more ALA fatty acids had a lower incidence of sudden cardiac death.
Chia seeds are rich in oxidants which are needed to fight free radicals and promote skin elasticity to prevent ageing symptoms. In fact, taking chia seed regularly helps to moisturise dry skin from within, making you feel and look more youthful. It is said that the antioxidants in chia seeds, which include Vitamin A, myricetin, quercetin and kaempferol can help to inhibit free radicals by 70% while the high Vitamin E content helps to delay ageing skin cells.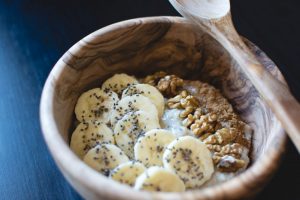 Incorporate chia seeds into your diet
Make chia seeds a staple in your daily diet. If this is your first time to try out chia seeds, start slowly and do not overeat. Avoid sprinkling too much onto food, otherwise, you may not be used to the gooey feel when they come into contact with the liquid.
The gelling properties mean that chia seeds absorb a lot of water, causing it to swell up to 12 times its original weight!
Overconsumption also brings the risk of another form of digestion problems such as tummy gas, bloating, diarrhoea and abdominal pain. Make sure you drink plenty of water when consuming chia seeds, to aid the digestion of fibre.
But once you are used to them, try adding a tablespoon of them into your plain water bottle and drink them during the day.
Healthy goodness overview
What is there not to love about chia seeds? By looking at the health benefits, here's an overview:
Rich in nutrients
Good for skin and anti-ageing
Good for the heart
Best for pregnant women
Promotes weight loss and muscle building
Loaded with anti-oxidants
Improves digestive health
Aids in diabetes management
Helps to enhance body metabolism
So if you do not have a jar or packet of chia seeds at home, do go out and standby one at home and at work today! Here's seeding the way forward to a healthy, happy life!
Look out for amazing opportunities and contacts at SuperFood Asia 2019. The world's top F&B suppliers and buyers will descend onto Singapore for this showcase event. It is the perfect occasion to network and connect with the F&B industry game changers. Fast forward your business here!