No millennial will be caught dead without a social media account. Be it Instagram, Snapchat, Twitter, you name it and they're probably on it. They practically live their lives on social media, documenting everything they encounter, buy, eat and drink.
F&B owners should tap into the free marketing provided by these wannabe influencers. After all, the best form of marketing is through word of mouth. But before you can get them to give you rave reviews, you'll need to up your restaurant and social media game first.
Food marketing brings together the food producer and the consumer through a chain of marketing activities. Pomeranz & Adler, 2015, define food marketing is defined as a chain of marketing activities that take place within the food system between a food organisation and the consumer
Photographs of your food, drinks and even the walls of your cafe posted online can entice more people to walk through your doors (or step up to your food truck).
Instagram is one of the fastest growing networks with more than 700 million monthly users. If you want to make an impact, it's time to embrace visuals.
Number one is food and atmosphere. The food you serve and the drinks you pour must look insta-worthy. It's all about pulling off pretty plating.
Get inspired by the colours of raw ingredients and table tops. Decorate or declutter your walls so that they provide a vivid background to your dishes.
Remember their pictures paint a thousand words and you want those thousand words to say your restaurant is THE place to be at.
Before you begin posting on your accounts, you will want to complete your entire profile, especially the about page. Pay attention to your Facebook account as that profile is a necessity for any business these days.
With a huge user base and more than 1.13 billion daily active users, having an active presence on the site is a guaranteed way to put your business at the forefront of people's minds.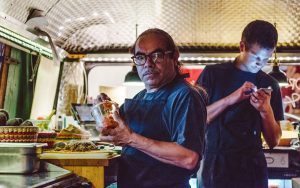 You will also want to add some of these to make potential customer's lives easy and make you stand out:
Add a "book now" button so that they can make reservations.
Add a "call now" button so that customers can call you.
Have your latest menu and promotions posted online
Allow reviews.
Now that your profiles are up and you've started filling it with content, it's time to engage your customers. It's vital to meet their needs. Be quick to respond when they send you messages.
Also, get into the habit of responding to all reviews, whether they're good or bad. This includes reviews on Google, Facebook, Yelp and others. Social media is here to stay and it's definitely worth investing time and money on it. A study found that 75% of people bought a product because they saw it on social media.
So, what your business chooses to do with its online presence is what will set you apart from your competition and increase footfall in your place. Superfood Asia 2019 Offers Complimentary Marketing Package to all early birds. This offer covers all top social media platforms with paid boost function and it's for FREE!