The basic definition of halal foundationally relates to permissible dietary food and drinks. However, the usage of halal today now extends to non-edible products including fashion, cosmetics, health products and even services.
According to the State of the Global Islamic Economy Report 2017/18, expenditure on halal food and beverage will exceed USD1.9 trillion by 2022, projecting a rise of 7.6 per cent CAGR from 2016. There are estimated 1.8 billion Muslims around the world, forming 24.4% of the population. This population is young, many of them millennials. This consumer category demands diversity in offerings, product types, flavours and cuisine type.
On top of that, non-Muslim consumers seeking sustainably sourced food or organic products are also increasingly buying halal-labelled products. Having a halal label may even be construed as a recipe for business growth.
The same report lists "halal organic and healthy", "halal ingredients", "halal baby food" and "halal food B2B and retail e-commerce" as some of the prevalent opportunities while in terms of policies, regulations and investment, "emerging halal accreditation" is one of the key issues.
HALAL STANDARDS
To be accepted as halal in 117 countries worldwide, certification is necessary. Without the halal certification from a recognised body, manufacturers cannot print the halal label on their products.
From source to fork, where food is concerned, there are various ways to be certified halal. Producers can get their offerings to be certified halal through halal standard inspection of the production process and ingredients. Halal products can be sold in a supermarket that sells non-halal products but a halal supermarket cannot sell non-halal products.
You can also get the entire production facilities to be certified as halal, which means that anything produced there can claim to be halal, but the certification still has to come from relevant authorities.
A restaurant can obtain a halal certification so that food prepared within the premises can be considered as halal food. There is still a largely grey area on the different certification providers, what processes are followed and the standards set by different providers.
As there is no single body that governs global halal certification, standards may vary. Countries, including US, UK, Australia and countries with large Muslim populations such as Malaysia, India and Indonesia, have their own (and many) local certification bodies whose approvals are accepted as halal endorsement elsewhere around the world.
Labels from Islamic majority countries often command higher prices compared to halal labels from non-Muslim countries. Each body's logo even differs.

HALAL LABELS FROM AROUND THE WORLD
An internationally recognised halal certifier is the Islamic Food and Nutrition Council fo America (IFANCA). The number of halal products certified by IFANCA rose by 15 percent in 2017, higher than the average food industry growth rate. Spain's Instituto Halal recorded 25 percent growth.
Malaysia, ranked top as the best halal system in the world, plans to create unified halal certification with Indonesia[2], the country with the Muslim population, in order to ease the speed of import-exports between both countries.
That aside, if you compare – Malaysia's Department of Standards has a huge variance in the certification regulations compared to the Emirates Authority for Standardization and Metrology (ESMA) which applies to the United Arab Emirates (UAE).
If producers need to adhere to different countries' halal guidelines, getting multiple halal approvals would not be cost-effective and slows down the market penetration of halal products. This is an issue that key countries producing and using halal products must equally address.
Malaysia had in 2017 announced that it intends to form an International Halal Authority Board (IHAB) to unite all certification bodies under one platform. This idea seems to be similar to the Halal Accreditation Forum (IHAF) which aims to do the same thing, although it only represents 25 accreditation agencies from 27 countries. Half of these countries are not even-predominantly Islamic.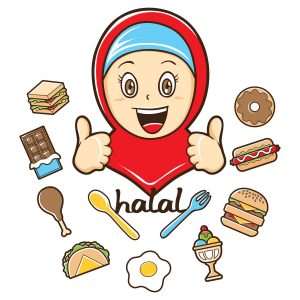 IDENTITY CONFUSION
With so many halal certificates and around 66 logos from different certifiers, it may sound confusing for producers. Customers, on the other hand, fortunately, remain supportive. As long as there is a halal word or logo on the product, it is usually considered as having fulfilled halal requirements.
The Department of Islamic Development (JAKIM) in Malaysia, only recognises 67 halal certifications from 41 countries, though the number of certification types may even be double. Imagine having to recognise labels on food products, each one carrying different logos from different certification bodies?
BETTER PERCEPTION OF HALAL LABELS
Halal labels are often positioned as high quality, safe and meet ethical standardsin the eyes of Muslims and non-Muslims as they do not contact animal-derived ingredients or alcohol. The values projected including religious compliance, social responsibility, ethical animal practices and as generally safer.
In Japan, there is an increase in labels bearing the logo of the Japan Halal Foundation. This is part of the strategy to meet the needs of the country's halal tourism with a potential annual influx of 40 million Muslim visitors by 2020.
After all, the Muslim traveller segment is said to be worth USD300 billion by 2026, based on the Mastercard-CrescentRating Global Muslim Travel Index 2017(GMTI) report.
Asia is set to be the hub of the halal furore, followed closely by Africa and Middle East. In terms of launches, Indonesia has the largest number of new halal labels with Malaysia and Singapore coming in second and third, respectively.
HALAL SUPERFOOD
With health awareness on the rise and rapid adoption of healthy eating trends, Global Food Industries from UEA has launched a range of healthy halal burgers containing superfoods such as quinoa and kale.
Producers are adding on the halal branding through controlled growing, processing and packaging of superfoods such as chia seeds, moringa and flax seeds. Efforts are being stepped up from farm to consumers to meet halal certification requirements as required by the Muslim marketplace.
SUPERFOOD ASIA 2019
Keep a lookout on the latest halal trends coming to you at SuperFood Asia 2019. Come join us and meet the world's top manufacturers and producers under one roof in Singapore!