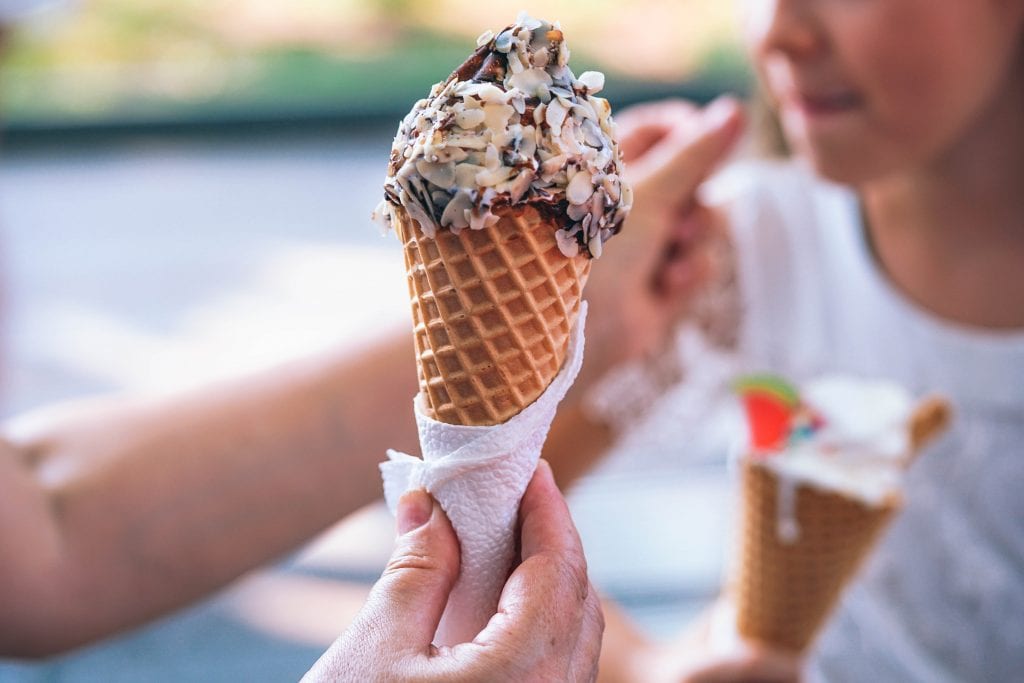 Here is the inside scoop on the phenomenal rise of vegan ice cream. The 300 percent increase of the vegan population over the last ten years is not the only trigger.The "go vegan for health" movement and millennials below 30 years old with higher purchasing power[1], with a penchant for "cool and stylish" vegan ice cream are leading the way.
Health enthusiasts advocate that vegan ice creams are higher in protein content and rich in omega oils, fibre and essential fatty acids. In short, nutritious. With vegan ice cream, you can have a sweet tooth and be in the pink of health too!Vegan ice cream are now available in convenient packaging for home consumption. Artisanal selections in trendy cafes also appeal to niche customers.
BINDING FLAVOUR AND THE SCIENCE OF FOOD
How do brands compete? In US, UK, Australia, Germany and increasingly in China, where millennials comprise over 30 percent of the population, innovation is key to success. In a study of the global vegan ice cream market potential from 2018 to 2022[2], Technavio suggests that the best way to capture customers' hearts through food innovation. Think – a plethora of flavours, ingredients and variants. This is made possible through the fusion of popular ingredients from choices of plant milk, nuts, beans and fruits.
Creating the ideal vegan ice cream is often a challenge for food scientists. Ben and Jerry's Flavour Guru, Kirsten Schimoler[3], explains why milk is an important ingredient in regular ice cream. Its makeup of protein, water, sugar and fat, play an important role in achieving flavour outcomes and silky smooth texture. What happens when you take away milk from ice cream? You have to rework the ice cream formula all over again. Schimoler sums up the challenge for vegan ice cream – not to make a great vegan ice cream, but to make a great ice cream, that is vegan.
RETAIL BRANDS
Ben and Jerry's together with its traditionally non-vegan competitors Häagen-Dazs, Breyers and Halo Top have already introduced vegan ice cream to meet market demands. In UK, Suncream Dairies sells its "Love Vegan" vanilla flavour ice cream in 5-litre containers. This flavour is registered with the Vegan Society and is declared to be free from 14 allergens such as egg, lactose, nut, soya and gluten.

This kills two birds with one stone, resonating not just with the vegan movement but also the "free from" food trend in the name of health. Market research company Mintel, in a recent report, reveals that 4 per cent of all new ice cream launches are vegan. Its food and drink analyst, Alex Beckett concedes that younger people perceive that dairy-free ice cream better treats than regular ice cream.
MILK ALTERNATIVES IN VEGAN ICE CREAM
Popular types of vegan ice cream range from sorbets, coconut milk ice cream and almond milk ice cream. Almond is a popular basic ingredient, as its roasted, nutty flavour enhances ice cream flavours, especially in chocolate concoctions. The non-dairy component of vegan ice cream is well-received as lactose-intolerant youth and adults want to avoid milk. In fact, over 2 per cent of children below three years old have milk allergies. In the UK alone, 16% of Mintel's respondents claimed that either they or a household member avoided dairy.
The same survey reports that one in ten Italians and 20 per cent of French consumers are already avoiding dairy products or reducing milk consumption. Not just dairy milk-free – the alternative ingredients such as coconut milk, almond milk, soy milk and rice milk are deemed healthier too.
DINE IN
Over in Asia, fast latching onto the trend is ice cream cafes in the likes of Hong Kong's Happy Cow and Malaysia's Sangkaya which are famed for their coconut desserts… vegan of course. There are also vegan ice cream bars such as Kind Kones in Kuala Lumpur, Pops Malaya, Kindori and more.
To meet market aspirations, IKEA is now serving vegan ice cream. It has replaced its traditional vanilla soft-serve with soy ice cream that's 100 per cent plant-based, free from dairy and gluten!
You will also see vegan restaurants serving their own vegan ice cream. When dining out in Singapore during SuperFood Asia 2019, check out Brownice's concoction made from organic brown rice milk, evaporated cane juice, fresh fruits and nuts. The guilt-free dessert only has 80-140 calories per scoop – truly made in heaven!
MAKE YOUR OWN VEGAN ICE CREAM
Did you know that you can easily make your own vegan ice cream? Aficionados will recommend aquafaba, or in plain old English, the liquid derived in water from slow cooking beans or in canned beans, as the secret sauce to making light home ice cream.
Add your favourite fruits such as strawberries, bananas, coffee (yes, coffee!), nuts… your favourite ingredients and whisk them in an electric ice cream maker to create your own vegan ice cream at home. It's that easy! Lots of recipes are available on the Internet.
From the superfood perspective, a home-made vegan ice cream can be made from scratch and loaded with matcha, coconut yoghurt, moringa powder, fresh berries, basil, an avocados….the list is endless! This is just one of the power-packed possibilities that can propel the market forward.

If you are not in the vegan food space yet, you can discover exciting opportunities at SuperFood Asia 2019. Come join us and meet the world's top manufacturers and producers all in one location in Singapore!