Evident is the shifting retail landscape – where retailers are opening their own vegan stores or create vegan sections in supermarkets. According to a report by market research company, GlobalData, in 2014, only 1% of the world population was classified as vegan. In 2017, the figure rose to 3%.
2018 seems to be a boom time as prime brands in the US and Europe are capitalizing on the popularity by opening vegan sections in their stores or even setting up standalone vegan grocer shops or supermarkets. And it's not just food, vegan skincare and vegan clothing brands are rapidly catching up.
In fact, for non-meat substitutes, Research and Markets project that the Asia Pacific may record the highest growth rate between 2018 and 2023. This is because non-meat-based meals infused with popular ingredients such as tofu and beans have long used in meals across Asia.
Veganism is indeed on the rise. Even Google Trends shows a sharp rise in the number of searches for the word "veganism", based on year-on-year analytics every June with a significant spurt over the last 12 months.
The word "vegan" was coined by Vegan Society Founder, Donald Watson in 1944. Vegans practice complete abstinence from meat or animal-based ingredients in food or products including skincare. Their diets are usually based on grains, nuts, vegetables, fruits, legumes and seeds. Recent trends see an avalanche of vegan meat substitutes derived from plant protein. Dairy alternatives are sourced from almond, soy and rice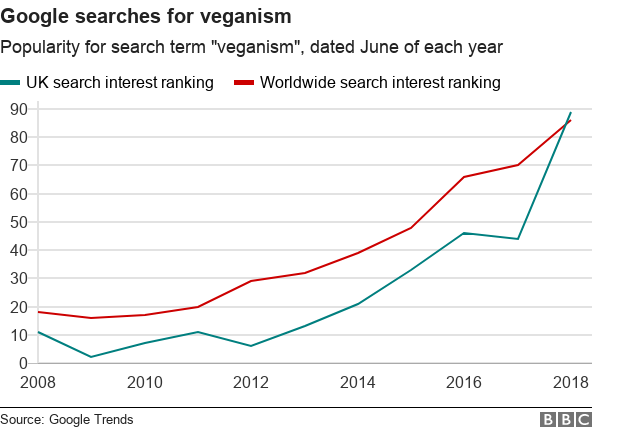 THE RISE OF VEGAN SHOPPING
In the light of huge demand, so where do vegans get their supplies? Over the last 3 years, a huge market has opened in the retail sector, primarily in the food and grocery sector.
The UK is a great example of the veganism revolution. In June 2018, Waitrose set up vegan sections in over 130 stores to accommodate a 60% increase of its vegan product range. Other chain stores such as Tesco, Marks & Spencer and Pret a Manger even have their own vegan brands, and many have their own dedicated vegan sections to cater to the needs of the flourishing vegan market.
Tesco has also added in another option, following the lead of rival Sainsbury to place its vegan mince and burger products in its meat section, to entice meat eaters to check out the vegan selections as well. While pure vegans may not like the idea of seeing meat products at the same time, this is indeed a brilliant strategy to capture various customer segments at the same time.
Whichever way it goes, the fact is – supermarkets selling vegan products are thriving. In the past, some supermarkets with separate vegetarian sections may have failed vegans. This is because "vegetarian" can also be constituted to include sources derived from animals including milk and eggs.
There is a dilemma. Retailers are trying hard to please this rapidly growing customer niche. A very small number has attempted to journey into unknown frontiers and establish standalone brick-and-mortar vegan groceries. These include the likes of The Little Vegan Market and Green Bay Supermarket. The latter has even taken a step forward to deliver added customer value through its massive online store and a promise of next-day delivery services.
WORLD'S FIRST VEGAN SUPERMARKET. BANKRUPT.
Despite the positive market sentiments, it may be puzzling that Veganz, the world's first vegan supermarket which opened its first store in Germany in 2011 and eventually grew to 10 stores, went bankrupt in 2017.
A year before, research agency Mintel[1] had reported that Germany was the launchpad for the most number of vegan food brands in the world, charting a remarkable 18%. The country was even touted to be the vegan capital of the world.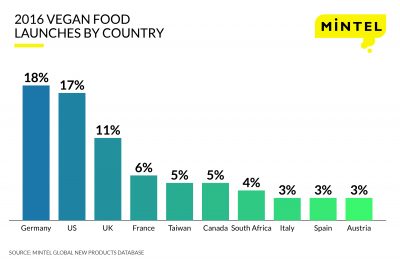 Could this have led to Veganz's downfall? Its founder, Jan Bredack, in an interview[1], claimed that the vegan supermarket had been outstripped due to vast and easily available vegan supplies, a "side effect" of the growing number of vegan purveyors.
That perhaps is a lesson, that while capitalizing on the vegan industry phenomenon, retailers should still exercise caution. The marketplace is abundant with attractive business opportunities.
It is important to understand vegan consumer needs and that they are also humans who want the convenience of being able to shop for their other non-food daily necessities and lifestyle offerings, which is available at normal supermarkets.
The strategy could be perhaps be seen in creating business models of standalone vegan grocers, not huge dedicated vegan supermarkets. Large supermarkets with dedicated vegan sections would work very well too.
Nevertheless, consumer trends may evolve over time. It would be best to stay alert, monitor and take calculated risks to capitalize on the exciting opportunities available in this vegan world.
Good to know:
Vegetarians can eat vegan food but not the other way around.

There is a rise in the number of "flexitarians" – people who don't mind switching between eating meat on some days and going vegan on other days. This also increases the demand for vegan products in stores.
Superfood Asia 2019
The only trade exhibition dedicated to Healthy & Natural Products and Halal F&B Products
Singapore – Marina Bay Sands Expo and Convention Centre
24th – 26th April 2019
For any enquiries, please drop an email to enquiry@superfood-asia.com